Questioning Commitment and Truth
I walk into a long overdue yoga class after weeks and days of feeling overwhelmed by my life. I have not been to a 12-step meeting in a long time either. Emotional and spiritual practice: Fail. Nor have I blogged. My sponsor poses the question as to why I think that is. I want to ignore the question and just trust. I am still not able to just ignore something once it is presented to me though. Damn voices!  This is a contributing element to my dis-ease, for better or worse. Sometimes I like this explorative trait of mine. Sometimes I want nothing to do with it. Program challenges me to look inward to change the one person I can. On the other hand, letting it be sometimes, without dissecting the hell out of every emotion has it's advantages. Sometimes I want to know which calling to proceed with; Mother Universe?  Do I just settle in and trust letting things be? Or do I constantly take things to a new level and continue to love me – love-me-not the shit out of every decision I make? Do I have to analyze everything for goodness sake? I am a little pissed at program, I suppose. I have been taking so much direction that I am getting confused about how to connect with my own inner spirit. Perhaps I am allowing the overachiever in me to lead. I hear my mothers (non program, though practical) voice saying to me "You don't have to try that hard or take life this seriously. Have fun. Everything will work out". I know that exploring is part of my process as is exchanging unhealthy behaviors for healthier ones whenever I am able to. Sometimes I just know, however, that whether I put too much pressure on diagnosing and agonizing over what my role in it is or whether I just observe gently and notice, that the change will occur either way. The benefit of the latter is that there is less judgmental pain and more acceptance. So out came the words of Dr. Ron, my Yoga teacher, at the opening of class: "Sometimes you have to take a look at what is commitment and what is truth…" My ears perked up and my heart tuned in. (The amount of times that the Universe delivers exactly the message I need to hear through my Yoga instructor is surreal!) Commitment can only take you so far before it begins creating turmoil in regards to what your truth is; before it makes you sick. "I'm not saying I have the answer…" he continues. And I feel the release of knowing that while I am truly a committed person, that my truth will certainly result in the better version of myself if I am challenged to choose it over commitment. Sometimes it's not a truth I anticipated or one that I have chosen. It just is. I can remain committed in my truth and still be kind and loving, even more so, to those that may become disappointed as a result of my unwillingness to pretend to be someone who I am not. Ultimately, nobody benefits from me giving an untrue version of myself no matter how much I, or anyone else tries to sugar coat it.   Sometimes I can honor my truth and my commitment simultaneously. That is the easy path I long for but do not always get. Because my truth has been in conflict with my commitment far more times then I would ever "allow" over these past several years,I am unsettled. I am learning to live with letting go of commitment when the commitment causes too much internal friction. The friction is an indication to me that I am working against what my soul is striving to connect to. While choosing my truth over my commitment sometimes causes pain, at least I can free myself of the demons that lurk about inside when I act on living as a person that is not me. Historically, I've always  had trouble relieving myself of commitment when in conflict with my truth, so it can be challenging and uncomfortable. The benefit of following my inner voice regardless of the awareness of the pain it has stirred up is that coming through it always results in greater harmony. I believe that I am at the end of a long leash that is being led by the Universe and that this has been the point all along.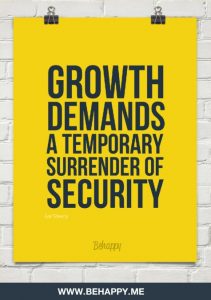 The truth that I am following is leading me to freedom and intention. I was just too disconnected and afraid to trust it before. I am still frightened because I really don't know where I am going. I just know, somehow, that I am meant to go. During this contemplation a text from my friend appears. (I just love when that happens. That unmatched validation that a Higher Power slips in through subliminal messaging; a song, a license plate, a yoga instructor.) The quote in the text reads: "Growth demands a temporary surrender of security". I find comfort in believing that because It means that the uncertainty that I am feeling is only temporary and that the end result will be worth it. I can also embrace the anticipation of what's to come and enjoy exactly where I am right now in it's creation. I like being in that place of harmony with what is greater than I. Writing this helps me become clearer and convinces me of the answer; the one that my yoga instructor said he didn't have. It is a message being delivered to me during a time when I am open enough to hear it. Commitment is a special trait that helps define our moral character. Truth, however, trumps the morality of commitment because it brings us to our truest connection; the one that validates that we are carrying out our part in this creation exactly as it was intended.